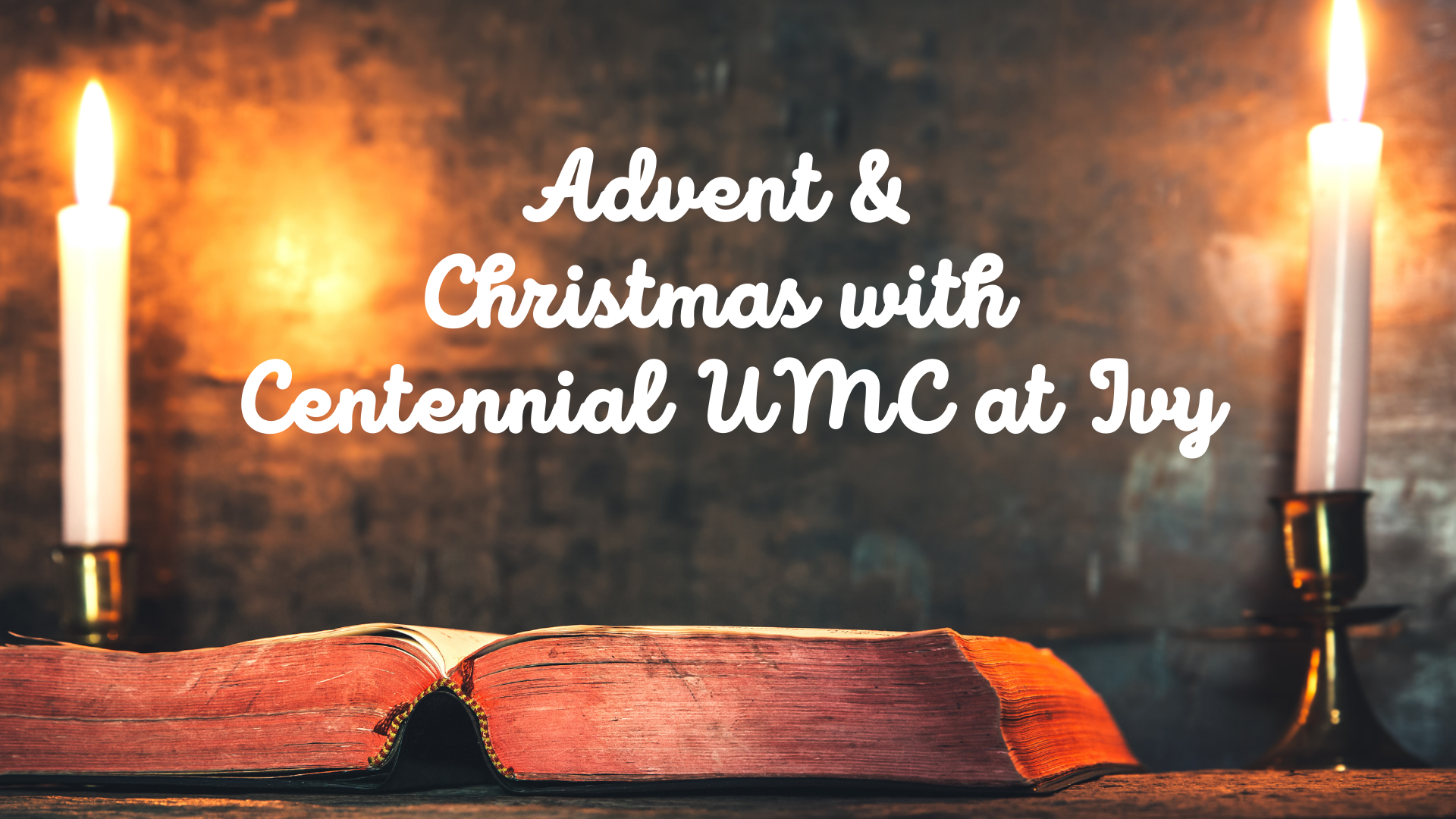 advent & christmas plans for december 2020 at centennial
We worship together every Sunday morning at 10:30 a.m. (online & radio)
& Wednesday evening from 7-7:30 p.m (online only until at least January 10)
Outdoor Live Nativity: Saturday, December 5 from 6:00-8:00 p.m.
Drive to the church parking lot to see how we reimagine the night Christ was born (with a pandemic twist... Hint: we're wearing masks)
Did you miss out on the Live Nativity or just want to relive the beauty of one of Ivy's traditions? Click here to watch a 2-minute recap video of this year's Live Nativity.
Online Children & Youth Christmas Sing-Along Program: Sunday, December 13 6:00 p.m.
"The Zoom Call that Changed Mary's Life:" Virtual Children & Youth Christmas Program
Click this link at 6:00 p.m. on Sunday, Dec 13 to watch our Children & Youth 2020 Christmas Program
Radio & online Christmas Eve services: Thursday, Dec. 24 7:00p.m. & 9:00 p.m.
And Silent Night singing by candlelight in the church parking lot at 8:15pm
Worship online or on the radio in our parking lot on Christmas Eve at 7pm or 9pm
In between the two services, join us in our parking lot with your mask on as we sing Silent Night with candles. Stay after the 7pm, come before the 9pm or join us even if you worship from home online! We'll gather outside and sing in any weather-- rain, sleet, or snow--as we proclaim the miracle of Christ's birth!
Visit ivycentennial.org or our Facebook page at facebook.com/CentennialUMCatIvy for service links
and event details. Drive to our parking lot, tune to 88.5 FM & listen to services on the radio